Hallie's Heroes Initiative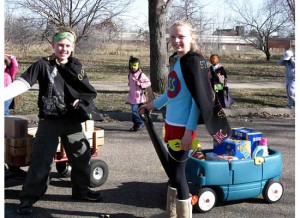 Hallie's Heroes is a civic engagement strategy designed to utilize a fun and interesting way to have youth involved in the world around them and participating in public efforts to improve their community and society as a whole. The morals and lessons of superheroes and comic books are translated into real world applications that allow youth to develop positive ideas and skill sets around grassroots efforts.
For the Hallie's Heroes initiative, the development of a toolkit, based on the work that we have done in the last several years, has created a replicable format that can engage youth civically to build a robust campaign that address social issues such as hunger and poverty. Building upon the original concept, the tool kit allows organizations and individuals to create their own campaigns with examples and suggestions of materials and ideas.
Comic Book Clubs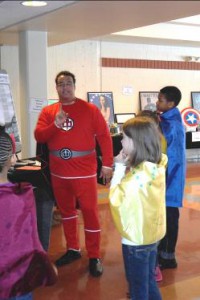 The Comic Book Club is an intervention and diversion strategy based on the premise that given a positive alternative, youth will choose a different path to success and community of influences. It was born out of the observation that nearly every successful African American male, from President Barack Obama on down grew up reading comic books and absorbing, many times unconsciously, ideals, principles and even strategies for life.  Comic books, especially superhero comic books, have reflected the cultural and public affairs issues of the times and often stimulate curiosity, and provide the some of the threads of learning that lead young people to seek out information, They stretch across all racial and ethnic groups.  They formulate opinions, and many times create new things that can better their lives and the world around them.
The purpose of this effort is to instill and inspire that in the youth of impacted communities and beyond.  Clubs meet monthly to discuss the ideas and concepts expressed within the genre and how they relate to real world applications of principles and efforts to make both individual lives and the community around them a better place.  Piloted in North Minneapolis with the North Regional Branch of the Hennepin County Library and the 4th Precinct CARE Task Force, the program has expanded to additional sites and developed a consistent program curriculum that can be replicated in communities around Minnesota and across the country.
How To Be A Superhero initiative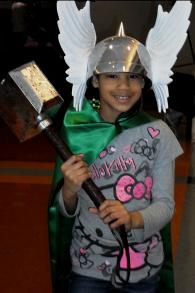 How To Be A Superhero is a two-week module that helps youth develop skills and promotes character development through exploring the basic building blocks of becoming a superhero and how to apply those lessons to real life.  Participants develop their own characters during the program spending time understanding the basic elements: origin story, powers and abilities, costume and identity, purpose, methodology; allowing them to understand who they can be through envisioning who they create.  Performing artists then help youth develop their story and "find their voice" so that they are able to develop confidence and engagement skills in order to articulate clearly their identity and explore their creative impulses.